Welcome to the Charlotte Adventist Christian School (CACS). CACS is focused on Christ centered learning and academic excellence. If you are looking for a school full of music, fellowship, and fun, and faith, then this could be the place for you.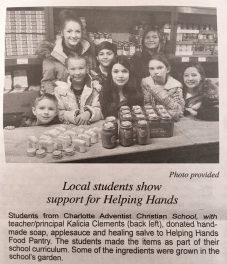 About Us
We are committed to providing quality education in a Christ-filled environment.  We are a Seventh-day Adventist school located in Charlotte, Michigan.  Our school is part of the world-wide Seventh-day Adventist school network. The Seventh-day Adventist educational system includes elementary, high school, college, and university schools in countries around the globe.  We invite you to discover our school.
Call us to schedule a visit, or explore online.   If you are interested in receiving more information about our school click on Contact Us.
COVID-19 Pandemic Update: Our school is following safety procedures to ensure our students and staff stay safe.  We will act in accordance with local health department guidelines and mandates as they are published, provided they do not conflict with our Biblical religious values/beliefs. The school board will review recommendations and will communicate any decisions to families via our school's communication channels. Please contact our principal if you have any questions.  Thank you.